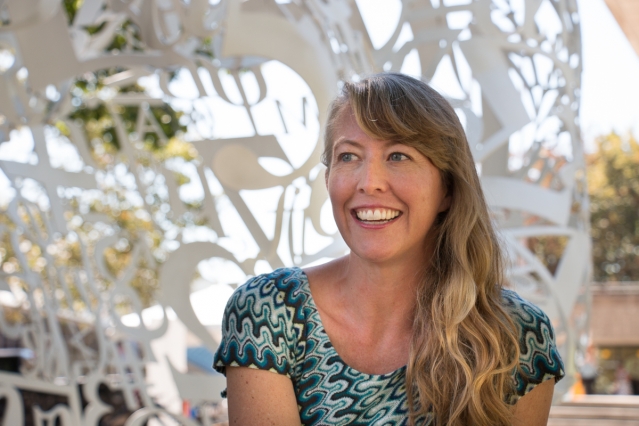 Dear Colleagues,
I am thrilled to announce that Kate Trimble, the current Associate Dean for the Priscilla King Gray (PKG) Public Service Center, will become the new Senior Associate Dean and Director of the Office of Experiential Learning (OEL). Her appointment will start on December 1, 2018. D-Lab, Edgerton Center, Global Education, PKG and UROP have comprised the reconfigured OEL as of July 1.
Kate joined MIT in October of 2016 to energize and expand the mission of the PKG. During her time there, she and her staff led an inclusive strategic planning process culminating in a bold new vision for public service at MIT and transitioned the center from the Division of Student Life into the OVC. Accomplishments of note include building partnerships with diverse campus units including Terrascope, the Office of Sustainability, the Educational Justice Institute, and SOLVE. In addition, PKG has launched new programming focused on climate change (PKG Spring Break and Community Conversations events) and the Navajo Nation (a Terrascope partnership). Through campus-wide efforts such as the "Get Good Stuff Done" campaign and "Together in Service," PKG is engaging more of the MIT communityin local and global service endeavors.
Before her role at PKG, Kate was the Deputy Director of the Swearer Center for Public Service at Brown University, where she also taught an engaged course on philanthropy and served on the University's Title IX Council. Prior to Brown, she was an executive director of a non-profit community development corporation in Pittsburgh, a funding vehicle for neighborhood development initiatives, and a senior research analyst at the Brookings Institution. Originally from Charleston, South Carolina, Kate graduated from Bard College with a degree in philosophy and received her J.D. from Georgetown University.
Please join me in congratulating Kate on her new role.
At the same time, I want to extend my deep gratitude to Professor Kim Vandiver for his leadership of the Office of Experiential Learning. Kim will continue as the Director of the Edgerton Center which he founded in 1992 with the vision of providing MIT students with resources to pursue their own creative projects, and from which he helped Amy Smith launch D-Lab. Kim also guided the first-year learning communities (FLCs)—the Experimental Study Group, Concourse, and Terrascope—through leadership changes and helped to evolve them into the thriving programs they are today.
Most important, Kim has been and is a bright beacon for our students who wish to learn by doing. The Edgerton Center has been home to many student clubs and teams since the mid-1990s and has enabled the construction of solar cars, Formula SAE race cars, rockets, competitive robots, AUVs, underwater vehicles and even Hyperloop pods. He created the Edgerton Center student shop in 1998 and added a second, CNC shop a few years ago. I am very pleased Kim will continue to lead Edgerton and be an advocate for making the MIT experience the best that it can be.
Experiential learning, as I have said many times, is at the heart of an MIT education and a defining aspect of what makes this place special. In the words of Margaret MacVicar '64, PhD '67, creator of UROP, our purpose is to "direct the best minds towards inquiries and enterprises concerned with the human condition." I can think of no one better than Kate to carry the torch and build on the wonderful work already underway across OEL. My expectation is that Kate will advance the existing strong partnerships we have with other experiential learning programs across MIT, including MISTI, Sandbox, MIT Innovation Initiative, and Legatum Center for Development and Entrepreneurship, to name just a few.
As previously announced, a component of the reorganization was for the FLCs to change reporting relationships from the OEL to the Office of the First Year (OFY) when a new OEL director was hired. Beginning December 1, I will serve as Acting Director of OFY since I am so deeply engaged in the efforts to improve the first-year experience.
Finally, I want to express my gratitude to the OEL Director search committee—Mary Markel Murphy (chair), Denny Freeman, Lauren Pouchak, Janet Rankin, Kim Vandiver, and Cecilia Wardle—for their efforts. We will begin a search for a new Director of PKG soon. Kate has graciously agreed to lead PKG until her successor has been found.
As always, if you have any questions, suggestions, or concerns, please let me know.
Sincerely,
Ian A. Waitz
Vice Chancellor for Undergraduate and Graduate Education and Jerome C. Hunsaker Professor of Aeronautics and Astronautics