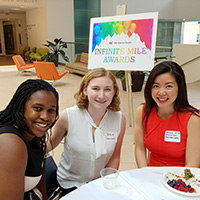 Nominations are now being accepted for OVC's Infinite Mile Awards, which will take place on June 1, 2020, 3-5 pm.
Employee recognition is an important component of growing a culture of development. OVC's Infinite Mile Awards Program is an opportunity to recognize individual employees and teams who have shown excellence; to foster an environment of commitment to shared success; and to showcase employee achievement. Every staff member in OVC, the Chancellor's Office, Mind Heart Hand, and Institute Discrimination and Harassment Response Office (formerly the Title IX Office) has an opportunity to contribute to the recognition of their peers through the annual nomination and selection process.
To access details of the nomination process, sample nominations and the nomination form, visit the OVC Infinite Mile Awards page. (You will have to use your kerberos to login to the staff pages. If you have trouble gaining access, please contact Elizabeth Durant, edurant@mit.edu.)
Please note that you can also access the nomination form directly, without logging into the OVC staff pages.
The deadline for nominations is Friday, March 13, 2020.
If you have any questions about the Infinite Mile program, please contact Kristin McCoy, kmccoy@mit.edu.
—Kristin McCoy, OVC Human Resources