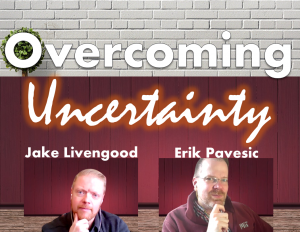 Career Advising & Professional Development has launched a new web series entitled Overcoming Uncertainty. Through some fun images and a bit of humor, Jake Livengood, senior assistant director of Graduate Student Programs, and Erik Pavesic, assistant director of First Year Engagement, inform and entertain students to help them navigate the current COVID-19 situation.
In episode one, Jake and Erik discuss mindsets. Jake discusses reframing from the Design Your Life curriculum and how it can help in a period of uncertainty like a pandemic. Erik shares some tips on how to adopt a growth-mindset based on the research of psychologist Carol Dweck. Jake and Erik keep the content light, accessible, and fun. Episode 1 premiered on April 27 and quickly became the second-most viewed video on the CAPD Youtube channel and keeps growing in viewership. In episode two, Jake and Erik interview Shivangi Goel '17, who is currently leading the HMS COVID-19 Student Response Team, to get her personal views on overcoming uncertainty. Jake and Erik are working on developing more content for future episodes. If you have ideas or suggestions for future content or interviews, email Jake and Erik.
This web series came to mind when Jake and Erik joined forces through an internal CAPD committee to develop career development resources for help students while MIT transitioned to a remote campus. Jake's background in comedy and improv and Erik's background in video editing and visual content were well matched to develop this web series. They enjoy making them and hope you enjoy watching them.
— Erik Pavesic, CAPD