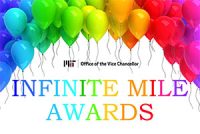 The OVC community gathered virtually in June 10 to celebrate the many contributions of staff selected as this year's recipients of the Infinite Mile Awards. Individuals and teams from across the organization were recognized for excellence in several categories, including communication and collaboration, community, diversity and inclusion, everyday leadership, innovation and creativity, and serving the client. (Read full descriptions about the awardees.)
The awards wouldn't be possible if it were not for the many individuals who take the time to write and submit nominations. Thank you!
Congratulations to this year's winners for this well-deserved recognition!
Individual Awards
Collaboration & Communication
Suraiya Baluch, OGE
Rosanne Santucci, Registrar's Office
David Elwell, ISO
Diversity & Inclusion
Everyday Leadership
Elizabeth Cogliano Young, Office of the First Year
Innovation & Creativity
Chris Peterson, Admissions
Tamara Menghi, CAPD
Chris Mayer, Edgerton
Serving the Client
Sandra Lipnoski, Edgerton
Erik Pavesic, CAPD
Team Awards
Serving the Client
OVC Finance Team (Jeanne Hillery, William Connelly and Ximena Forero-Irizarry)
SFS Financial Aid Team (Gary Ryan, Andre Barbosa, Matt Cromie, Chrissy Monaco, Nicole Piper and Henry Rea)