As we get ready to welcome the Class of 2024 in February, the Office of the First Year (OFY) is reflecting on successes from the fall semester. Despite the challenges of programming in the virtual space, first year and transfer students took advantage of the many events we offered. We know they're looking forward to moving to campus for the spring semester, and we're looking forward to greeting them!
Faculty Chats
We offered 11 Faculty Chats, hosted by faculty from eight different academic departments, to the 2024s. First-years had the opportunity to meet faculty in a casual setting and learn more about their research and department.
Major Exploration Events
Associate Advisors hosted 25 drop-in events for 2024s on Zoom in November. These informal sessions allowed first-year students to ask questions of their upper-level peers and get advice about potential departments and majors of interest.
Associate Advisor Spotlight: Sheila Baber, Class of 2021, EAPS Department

Sheila advises ESG students with Dr. Analia Barrantes. She told the OFY that she recreated the "serendipitous encounters" that might take place in the hallways and classrooms of a physical classroom with a randomized coffee date. She paired first-years with one another and also with upper-level students. She is diligent about checking in with her advisees once a week with Messenger chat. Sheila especially cherishes the one-to-one conversations she's gotten to have with her advisees. "I feel rejuvenated by their interests and hopes," she says.
FLI@MIT
The First Generation Program (which serves students who are the first-generation in their families to attend college, or students from low-income communities—or FLI, for short) held many events over the course of the fall semester, including an Alumni Mentorship Mingle with the new FLI alumni group that focused on a variety of topics, such as working in a team, building leadership skills, and build.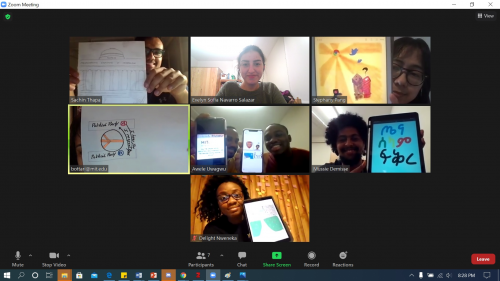 Transfer Students Find Hope Together
Evelyn Navarro, Awele Uwagw, Mussie Demisse, Issa Rais, Sachin Thapa, Panhasopheak Pang and Delight Nweneka spent the evening creating their square drawing answering the question, "Where do you find hope?" for MindHandHeart's community quilt.
— OFY Staff